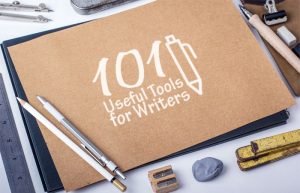 When it comes to producing quality content, writers often need help. Technology makes it easy for content creators to get the assistance they need to make their writing stand out from the crowd, to make it logical and legible.
See also: MBA essay help.
We have compiled a great collection of tools that can assist you with your writing, increase the quality of your text, organize your work and help you to create the true masterpiece of writing.
1. Portent's Content Idea Generator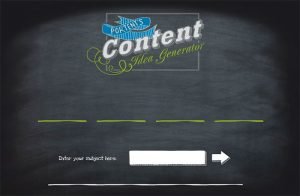 The tool is easy to use, and its background makes it fun to play with. You just need to add a keyword and hit "Enter". Each time you click you get one content suggestion and one title. If the title doesn't suit you, you can refresh it as many times as you need.
2. Hubspot's Blog Topic Generator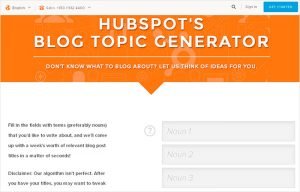 The Hubspot's generator is one of the most famous tools in the marketing world. Type in three words and click the "Give me blog topics" button. You will get a list of topics which you can use for inspiration. Some of the topics can be even suitable for headings.
How do people search for a topic, brand or word? The Google Trends tool uses real-time data to help you explore the global reaction on what you are currently interested in. You can find out where the topic is most-searched and what else people search for related to the topic. You can filter the Trends data to real-time and non-real time.
4. Soovle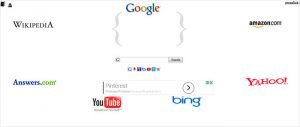 This tool allows you to research for keywords from major informational resources and engines like Google, YouTube, Yahoo, Bing, Wikipedia, and others. The tool allows you to examine and compare the results from fifteen different resources. Soovle is also great for rapid search of titles, products and breaking news.
5. Content Marketing Ideas Generator
This tool generates ideas for content. You just need to enter a target audience and a discipline and you will get 20 new ideas.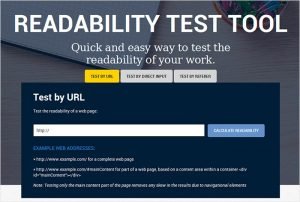 If you need to test your text for readability, this tool will give you an idea of how easy your text is to read. Just enter your page's URL into the search field and the tool will calculate readability.
7. Hemingway
The Hemingway app analyzes text and promises to make your writing bold and clear. The tool highlights overly complicated words and suggests alternatives. It also underlines difficult-to-read sentences, instances of the passive voice and adverbs.
8. Grammarly
Grammarly is a grammar checker for proofreading texts. There is a free and premium (paid) version of the tool. The premium version will give you identify more grammar errors in your text, and it will also provide the information about each error. You can use the tool right in your browser – create a new document and start writing. Or you can paste a ready text into this document for analysis as well.
9. Unsuck-it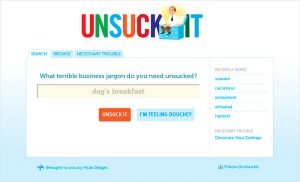 This app with an easy interface is aimed at decoding office jargon words. Enter a phrase or word to the search bar on the homepage and you will get the term's meaning. If the app hasn't found the meaning, you can use Twitter for help. You can also add meaning of your own to the app.
10. ZenPen
ZenPen is a free app that allows you to write text in a clutter-free environment. It is a writing zone that blocks out all distractions and leaves the text that is important.
11. Ilys
Ilys is a clever app for creative writing. Just tell it how many words you want to write and start typing into the void of a blank screen. All you can see is the last character you typed. Once you reach the target number of words, you can read back and edit the text.
12. Hipster Ipsum
Hipster Ipsum is a random text generator which is handy for generating dummy text for any occasion.
13. Rhyme Zone
This online app with a simple interface will easily help you to find a rhyme, synonym or definition. Just search for a word and get a list of words that rhyme.
14. Cliche Finder
If you need to check your writing for cliches, this tool can be of a great use. This tool will find hidden cliches in your text and points you to phrases that have been used many times.
This app is also known as "After the Deadline". The program allows you to check your writing for spelling errors, get grammar or style suggestions. Just paste your document in the field and click "Check Writing". To see more options, you can click on the underlined errors and suggestions.
16. Ulysses
If you need more than just a simple text editor, Ulysses is a great choice. Wherever you are, the app lets you write and organize your writing in one place. Ulysses is avaliable for all your devices, from iPhone to iPad and Mac.
17. Wordy
Wordy is a real-time copy-editing and proofreading service that will copy-edit your text in less that 20 minutes. Just send your content to Wordy, and they will match it with the right editor.
18. GrammarBase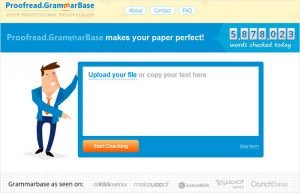 GrammarBase is an online grammar checker which easily finds grammar mistakes. You just copy and paste your content into the checker's field, and the program will highlight grammar, style and punctuation errors, and checks spelling.
19. 300Editors
300Editors is a real-time environment for editing and proofreading your text content while you watch. Log in to the system and send the text you need to proofread or edit. The program will select the best editor for your task. When you get matched with a live editor, you can watch the document's editing in real time, via Google Docs.
20. Reedsy
Reedsy allows you to contact with writers, editors and proofreaders. The main goal of the site is to help authors who search for easier way to publish their books. But the site will also be helpful for experienced authors. Just send your content to up to five editors and they will send you their bids and feedback.
21. ProWritingAid
ProWritingAid is an online app that allows you to edit your writing much faster and easier. It highlights many writing pitfalls like passive voice, repetitive words, overly complicated sentences, abstract language, and so on. The tool will give you 24 writing reports.
22. WiseMapping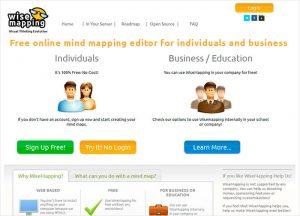 WiseMapping is a web based mind mapping program that you can use for brainstorming ideas or solving problems. It is free and easy to register and use. The tool is basic but can be really helpful.
23. Bubbl.us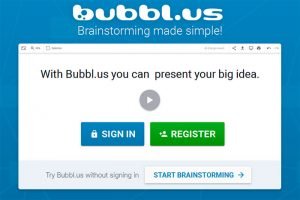 This easy-to-use website gives you an opportunity to easily brainstorm for ideas and create a map for them. The ideas can be organized, you can choose text size, format and use hyperlinks. The website is free, and you don't need to make an account to try it.
24. yWriter5
yWriter is a free writing software that can be of a great use for novelists. The word processor breaks the novel into chapters and scenes, helping you keep track of your work. The program was designed by an author, whose novels were written by means of yWriter.
25. Q10
It is difficult to write when you are distracted. Fortunately, Q10 has been created to minimize distraction and motivate you to write. The app will remind you what last you worked on, it has a timer which you can set as you need. Automatic save is also available that is very convenient.
26. Writer
If you need to focus on writing and work without extra distraction, give Writer a try. This simple tool is not for complicated formatting, but you can make lists, use headers, bold and italics.
27. Note Everything
Whether you wish to write something down or record a voice note, this ultimate notepad will help you to make all your notes. You can easily organize your notes or even draw a picture and save it. The app is so handy and easy to use that you will never want to use a pen and paper again.
28. Write 2 Lite
This app for iPhone is free and is fine for any type of writing. You can forget about pen and paper and make notes whenever you need. You can use different themes, change font size and even use Emergency Mode.
29. Diaro
Diaro is an advanced diary application which allows you to make notes and document moments. You can use it as a diary or as a notepad. Attach images, photos and locations, share your moments with your friends in socials and via e-mail. Diaro is password-protected, so you will never have to worry about others see your notes.
30. WordPress Editorial Calendar
If you are working with WordPress, this useful plug-in with handy features allows you to see all your posts and scheduled dates, edit post titles, contents and time, see your posts' status and manage your drafts. The plug-in supports drag-n-drop feature that makes its use much easier.
31. Co Schedule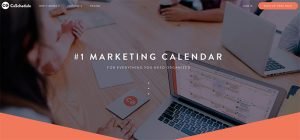 This all in one editorial calendar for content marketing and social scheduling will help you to plan, organize and execute any content project in one place. The calendar has great syncing capabilities and is able to sync your writing or posts and integrate them to other tools like Google Docs, Evernote, Chrome, Google Analytics and many others.
32. Kapost
This content marketing software platform was created to organize content marketing into a structured business process. Although the platform is for B2B mostly, it can be effective for writers since it comes with a content calendar, workflow tracking and feedback capability.
33. Workflowy
Workflowy is a tool for lists and notes. It's great for collaborate, brainstorm, plan and organize your brain. Its simplicity allows you to create shopping lists, and its power lets you to run a company.
34. Trello
Trello is a flexible and easy-to-use tool that keeps track of everything, from a big picture to small details. It is a free web app for managing projects of small groups. You can use Trello for all your projects, at work and at home.
35. Pocket
Pocket is the place to save, discover and recommend the stories. It is a virtual pocket for collecting pages that interests you. There is an opportunity to tag items for easy searching.
36. TitleCase
If you need to automatically capitalize your text titles, blog post titles, e-mail subjects, this tool will convert your headline into perfect title case.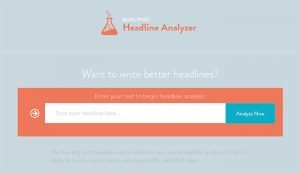 Do you want to write better headlines? This tool will analyze your headline, breaks it down by segmenting different types of words and giving you hints on how to improve the headline. You can try different combinations and pick the best one.
38. Calmly Writer
Calmly Writer is a text editor created to focus on what you need to tell. The editor has a plain interface with white background and black typeface. The app is available as a browser extension or as an online editor.
39. Focus Writer
This app with a clean interface is a fullscreen word processor that was created to immerse you as much as possible in your work. It features customizable themes, spellcheck, autosave as well as daily goals and timers. It supports over 20 languages.
40. The Most Dangerous Writing App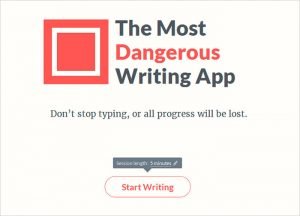 This sadistic app will force you to complete your writing before the deadline. If you stop typing for more than 3 seconds, it will delete everything you have typed to that point. Don't damage your computer in a fit of rage!
41. StayFocusd
This extension for Chrome is highly customizable, it allows you to limit the amount of time which you can spend on some websites. Try this app – it will help you to increase your productivity.
42. oTranscribe
This free HTML5 app will help you to easily transcribe your interviews and other audios. You just need to upload your audio or video file and use a word processor with controls on the same page.
This extensive list of variations between the two versions of English language was created for all those whose native English is British, but who writes for the US market.
44. Wordcounter
This tool ranks the most frequently used words in a text. You can find out what words you overuse or simply extract some keywords in a document.
45. Thesaurus
This tool will help you to find synonyms of words. It is great for finding alternatives.
46. SERP Title Tool
This tool will help you to optimize your page for search engines. Enter your title, meta description and URL and you will see how they will appear in Google search results.
This plug-in for WordPress was created to help you with website optimization. It's based on several factors and won't let you forget about any vital components of SEO.
48. TypeWrite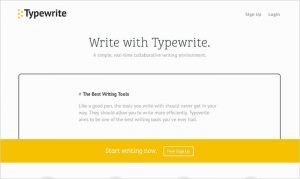 This simple, real time collaborative writing environment promises to be one of the best writing tools you've ever had. Work on your document with others in real time, write and edit together. It is also possible to save multiple versions of the document to compare later.
49. Wridea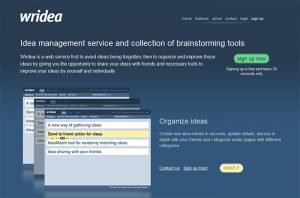 This management service is a collection of brainstorming tools. It allows you to share ideas with friends, comment, make suggestions, categorize and improve your ideas with the help of the tool.
50. Google Docs
This indispensable online office allows you to create and edit documents, presentations, spreadsheets, share them with friends, collaborate in real time, and store them in Google Drive.
51. Alchemy Text
This is a collection of APIs that analyze text via natural language processing. The tool can analyze text so that you can understand its concept, keywords, and more.
52. Read-O-Meter
Copy and paste your text into the tool and you will give your readers estimated reading time.
53. A Soft Murmur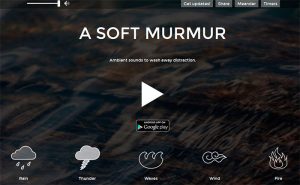 If you wish you were on the coffee shop or on the beach instead of the office, this tool offers a collection of various sounds that will help you imagine you're somewhere out of the office. You can even mix your own sounds.
54. Plag Tracker
This free plagiarism checker lets you check your paper online and detect plagiarism. The tools gives accurate results and easy convenient report.
This Google resource was created for trends, insights and research in digital marketing. Here you will find only fresh ideas, data and cases. The tool can be your digital cheat sheet.
56. Quabel
This is a minimalist online text editor and a distraction-free writing tool. You can export your writing as a text document, and you can set a writing goal.
This tool is the best desktop client for various blog platforms. This is a powerful lightweight application for composing and managing blog posts. You can write your posts online and save them for later publishing.
58. Toggl
This tool isn't so much a writing tool, but it can help you to write by tracking time. It's free and super easy to use. You can use it either on your phone or online at their website.
59. Coffitivity
This writing tool plays background noise like you might hear in a coffee shop. There is something in this sound that may help to just slip right into work mode.
60. Written? Kitten!
This free tool can inspire you to write long texts. There is an empty screen with a blank field. Simply start typing your text, and after the 100th word an image will pop up.
61. Scrivener
Scrivener was originally designed to help novelists to manage their writing. But it's also a great organizational tool. The tool works with documents, labels, folders and within individual projects.
62. Evernote
Evernote is a web service to create and store your notes. This is the place you can organize all your writing, research and even your personal notes. It;s like your digital brain and your personal library of information.
63. Byword
This simple app for Mac devices provides a plain white or black background. This is not a web-based app so it just provides much focus. It's possible to publish on most publishing platforms right from Byword.
A style guide is a set of standards for the writing and design of documents. This guide is created by the Guardian.
65. Celtx
This online scriptwriting platform was created for small creative teams and has got a solo screenwriting package. This tool doesn't cost much, and for straightforward scripting it's worth a look.
66. Writemonkey
This text editor helps you work more efficiently by cutting down on distractions. The program has a simple interface that's much more powerful than it looks. There is an automatic syntax highlighting, great outliner and file organisation.
67. FocusWriter
FocusWriter is created to eliminate distractions. It enables you to customize the way the text appears on the screen and see your progress. You can even add typewriter sound effect. Available for Linux, Windows and OS X.
68. LibreOffice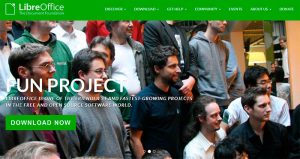 The LibreOffice suit is a free alternative of Microsoft Office. Its Writer has many powerful features. One of the most interesting and useful features is LibreOffice Template center where you can find templates for any content.
69. Sigil
This tool lets you create your own ebooks and get them ready to publish online. There is WYSIWYG editor that makes it possible to check imported documents against the ePub standard, formatting and editing.
70. Trelby
Trelby is a fast and powerful screenwriting tool that is available for Windows and for Linux. You can compare different versions of the same script, create location, scene, character and dialog reports.
71. Scribus
Scribus is a page layout program for Linux, FreeBSD, PC-BSD, NetBSD, OpenBSD, Solaris, OpenIndiana, Debian GNU/Hurd, Mac OS X, OS/2 Warp 4, eComStation, Haiku and Windows. Scribus has evolved into one of the premier Open Source desktop applications.
72. Daily Page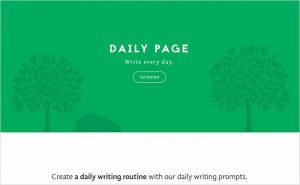 If you wish to write every day, but you don't know what to write about, Daily Page is a tool that will help you to get into the habit. It will send you a writing prompt every day, and you'll have to write your response to the prompt.
73. 750Words
An interesting way to practice your writing is to do a "brain dump" exercise with this tool. That means getting all the stuff in your head down on paper. It;s just you, writing whatever you wish on a totally private account, without having to title your content or share with your friends.
74. Twords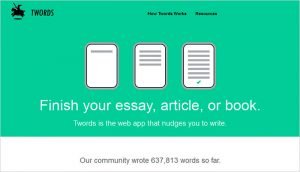 If you are a blogger, publishing content on a regular basis is very important in the blogging sphere. Twords is the app that nudges you to write. It will notify you if you haven't written for some time so you can keep yourself accountable. The tool has some cool resources like a prompt library, writing resources and others.
75. Help Me Write
On Help Me Write you can post ideas what you think you can write about and then share those ideas with your followers on social networks like Twitter, Facebook, e-mail, etc. Your network can tell you what they'd like to read the most; they can vote on their favorites, you'll pick up the best topics and save your time.
76. E.ggtimer
This free tool will help you to finish your writing on time. The tool's principle is based on the time management technique where work is split into periods of distraction-free work followed by short breaks.
77. Tomato Timer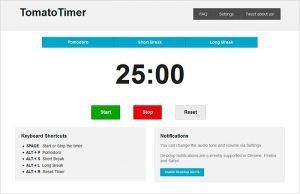 If you are on deadline or like to work under a little pressure, this tool is for you. It is also based on the Pomodoro technique which is optimal for productivity.
78. Listly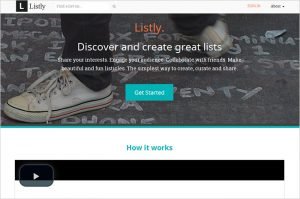 This tool will be on handy for those who create lists in their posts. With Listly you can ask your audience to contribute to your list. You can either embed the list to your blog post or use it for research before the post's publishing.
79. AtomicWriter
This tool will assess your writing depending on your target audience, which content they like the most. Just integrate your Google Analytics and social media account to AtomicWriter and then paste your content to the app. It will analyze your historical and engagement data and will tell whether the content is suitable for your audience.
80. BrainyQuote
If you want to include a quote of a famous person in your writing, this resource is the right place to find a quote. BrainyQuote is a library with millions of interested quotes that you can search by speakers or by topic.
81. Twinword
This useful writer will help you if you get stuck on a word. It will automatically sense if you stop writing. It will analyze your text and make a prompt in a box suggesting alternate words you can use.
82. Prompts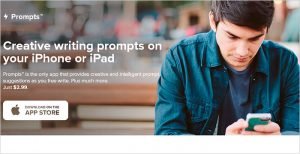 This iOS app is fine if you use your iPhone for typing articles or ideas. The app makes suggestions for what you should write next, tracks statistics about your writing habits, and it can remind you to write regularly. You can also schedule the best time to write via your writing history.
83. Draft
You can easily upload your document to Draft from cloud services like Evernote or Google Drive and edit it within the tool. You can share it with your colleagues, manage with with several people, and so on. It works much the same way as Google Docs.
84. Correctica
This checking tool is great for triple checking before you publish or send your article. The tool checks for grammatical errors and is free of charge.
85. WritePls
WritePls is a great home library for writers that has collected the richest base of resources for writers to help in their work. The resource has organized the top articles about general writing, growth hacking, resources for online publications and ebooks, and so on.
86. Content Ideator
Do you lack of inspiration and would like to inspire your own content piece Just enter a keyword into the search box of the tool and you'll get a list of existing titles.
87. Squirt
This tool lets you read a text one word at a time and enhances your reading speed.
88. Write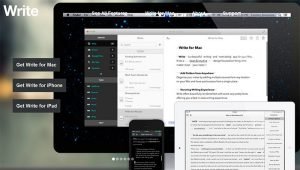 This tool for tablet and smartphone creates a good writing experience that could be as if you were writing from your desktop. Their cursor is not missing as it can be in other apps, the cursor is able to ensure you are writing the text correctly.
89. Poetica
This tool works with WordPress. Poetica lets you see how people edit in real time and publish it right to WordPress. The collaborative form of editing is supported.
90. Reedsy
Reedsy is a community where authors get acquainted with the best marketers, editors and designers. The tool will let you stay connected with experts so that you can create a beautiful product.
91. OmmWriter
This tool lets you concentrate on the single task of writing. It's like your own private writing room; it features backgrounds and audio tracks to help you concentrate on writing.
92. WriteRack
Do you often post tweets that are longer than 140 characters? If so, this tool will help you to divide your long tweet, number it and post all of your tweets at once.
93. Slick Write
This tool analyzes your text to find spelling, grammatical and punctuation errors. You can adjust settings to catch mistakes like biased language.
This is a editing tool that corrects grammar in a uncluttered way. The words to be corrected are underlined in red, blue and green, depending on the correction. You can also use the tool to get style suggestions for the content.
95. Writefull
Writefull is a tool that integrates with your word processor. It uses databases to give feedback on your writing. It works with a popover that offers 5 options.
96. Grammar Monster
Grammar monster will help you to prevent mistakes. It is an educational website where there are a lot of writing lessons, tips and lots of grammar rules divided into categories.
97. Spellchecker
The website will accurately check your writing for spelling errors.
98. Grammar Check
This online tool checks writing for grammatical mistakes easy and fast.
99. 300Editors
This tool offers you real time editing. Just send the work you need to edit. The system will choose the best editor for your project based on their skills, level, price and speed. You can even watch the document edits in real time.
100. Grammark
This tool will help you to perform a simple grammar check on your writing.
101. Autocrit
This manuscript tool is created for fiction writers. You can quickly edit your work anytime.