Some students believe short story writing is the least challenging assignment they can get in college. They think it won't take much time and effort to complete it because… well, it's short, after all.
But there's a catch:
Shorter doesn't equal easier. Do you remember Mark Twain saying to his friend, "I didn't have time to write a short letter, so I wrote a long one instead?" This writing form requires more diligence and clarity: You need an intriguing opening to hook readers, powerful words to communicate your character's goal and conflict, and a compelling ending to wow readers and make them remember your story.
Short story writing's structure reminds the format of a personal narrative, but here you don't write about yourself. You craft fiction with all the components of storytelling in it.
Seems too challenging?
This article will help you learn how to write a short story. No time to read as the due date is coming? Ask our online assignment help to assist you with short story writing.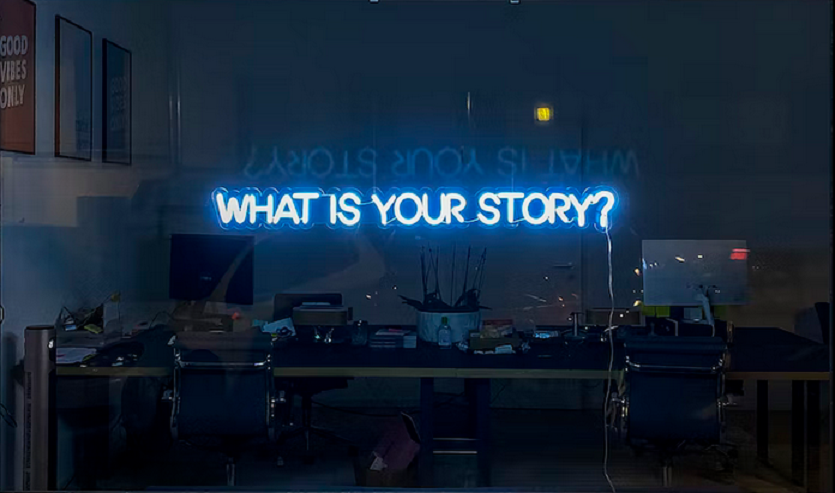 What Is a Short Story?
A short story is prose fiction aimed to capture a moment, evoke a particular emotion, or impact a moral. All elements — characters, setting, conflict, plot, etc. — work together towards that common goal.
Because of their length (1,000 to 5,000 words), short stories are less complex than longer narratives like novellas (typically 30,000 words) or novels.
In a short story, you can build a world and have multiple characters, but this world won't be as extended as in a novel, and every character won't have a backstory or a meaningful character arc like you'd provide in a lengthier work. So, here go the restrictions:
No big worlds or intricate plots like in The Lord of the Rings.
No backstories or meaningful character arcs like in Harry Potter.
No subplots or complex narratives like in Game of Thrones.
Okay, what's in there in a short story instead?
Short Story Components
Your story is short, but it doesn't mean its theme is less profound than a longer work's theme. While you have fewer words, characters, and a simpler setting for writing a short story, it still needs to impact readers.
When planning your story, ensure to think of the following elements:
Mood or feeling. What do you want to evoke in readers? Is it an emotion of joy, grief, or loss? An idea concerning some life lessons or morals? Do your best to define the clear goal of your story: It will help you decide on the language, plot, and other instruments for writing it.
Descriptive language. Your story is short, so every word needs to be clear and essential to the concept, context, and plot development.
Point. What do you want to say with your short story? You need to know a clear point before writing your story so you could reflect on it throughout the text.
Speaking of short stories, we often mean a traditional storytelling technique: setting, hero's journey, conflict, resolution, and all this stuff. It works for a short story writing assignment in the college, either. However, if you write a fiction story outside your academic life, feel free to break the rules and play around with conventions:
You are welcome to try writing flash fiction or microfiction, aka stories under 1,000 words. Or, practice anecdotes, aka short narratives with a moral lesson. Regular writing of fables, feghoot, sketches, or vignettes can be a good practice, too: They are short scenes that can become a part of your massive literary work later.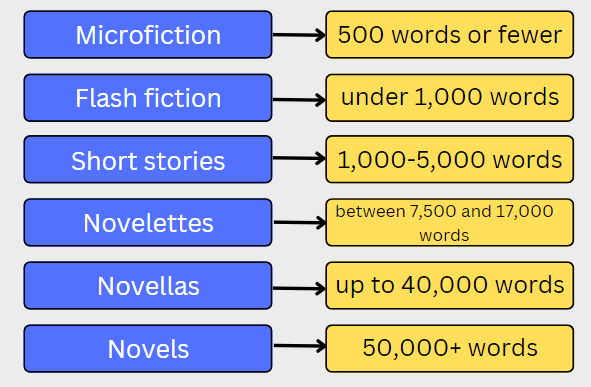 In the literary world, all these numbers are nominal. Take the famous, "For sale: baby shoes, never worn," for example: In six words, the author provides all five elements every short story has:
Character: a person, an animal, or a creature who does an action in your story.
Plot: a series of events to illustrate the conflict of your story.
Theme: the central message of your story, a point you want to communicate to readers.
Conflict: what drives your story's plot; the obstacles a hero overcomes or the goal they want to reach. A conflict can be internal or external.
Setting: the time and place where your story occurs.
The above short story about baby shoes is a palmary example of how critical language patterns are for communicating the point. That story relies on the reader extrapolating meaning from the words, and it succeeds.
What's in a Short Story College Assignment?
When it comes to college assignments, a six-word story is not an option, of course, but it's a great way to practice your writing skills! Also, it may serve as a warm-up before you start working on a short story or any other assignment.
A short story college assignment is not that different from traditional short story writing. A professor will ask you to craft a 500-1,000 word piece that includes storytelling elements.
So, you will need to:
Choose a theme as the basis of your story.
Decide on a setting and a plot to communicate the theme to the audience.
Create a character who'll have a goal and a conflict.
Use indirect characterization and descriptive pictures to bring your characters to life and make them and your whole story believable.
Think of a conflict resolution at the end of the story and the emotion (thought, idea) you want to evoke in readers. In other words, what's the point of your short story?
Yes, the whole process looks challenging and time-consuming. No worries! Below is your step-by-step guide on how to write a short story.
Hint:
The prewriting phase is the most difficult one, and it takes much more time than writing a draft.
Reminder:
If you don't have time and energy for short story prewriting and writing, you can ask professional academic writers for help. Here at CopyСrafter, we are ready to assist you 24/7.
How to Write a Short Story
1 — Decide on the Idea
Short story ideas are numerous. It's a self-contained work of fiction, so do your best to mine imagination and craft an engaging story that evokes emotions from the audience.
It's critical:
Before you sit and write a story just the way it goes in your mind, you need to decide on the theme and mood you want to convey. What idea or point of view do you want to communicate with your story? How will you represent it?
All the elements in your short story will work together to give your idea to the readers. What kind of story do you want to tell, and why? Start your brainstorming session — and write down the genre of your story (humor, horror, drama, romance?), its theme (a central message you want to convey), and the emotion you want to evoke (joy, grief, compassion, anger, etc.).
If you already have ideas on the setting and characters for your short story, write them down too. The key plot points are also worth noting: They'll help you fill in details later.
2 — Think of a Character's Goal and Conflict
Please don't move on to outlining and writing a short story before you have a protagonist and a conflict. You need to know them beforehand; otherwise, you won't understand what to write and how to move your story's plot to the end (resolution).
A conflict is what shapes your characters, drives your plot, and allows you to communicate your theme to readers.
As you remember, your story is short and has a limited word number. That's why one main character with one conflict is a great way to start. Think of the goal your protagonist wants to reach and a few obstacles they will overcome to succeed.
The following worksheet can help you create a character for your short story: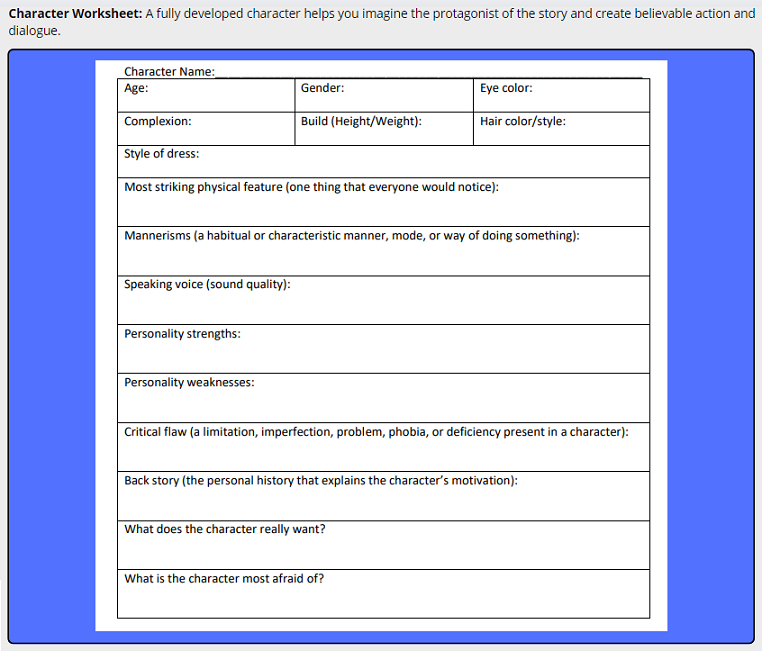 If your story has several characters, try describing each of them with the above worksheet. It will allow you to understand each hero better and craft their words and deeds accordingly.
3 — Choose a Strong Opening
How to start writing a short story? Consider the restrictions of this format:
You won't have a lot of room for wordy descriptions and exposition, and that is why start with a catchy opening that will hook readers and immerse them in your plot at once.
Some writers practice the in media res trick: Open your story in the middle of the action and fill in details later. In other words, take the reader straight to the central scene of your plot.
Or, you can try these ideas for opening your short story:
Scene-setting. A reader joins the character in a pause before the action.
Conflict establishment. The exact moment when a character gets into trouble.
Mystifier. Throw a reader into a situation without giving any details yet.
You, as the third-person narrator, speak to a reader.
You, as the first-person narrator, speak to a reader.
Quotation.
Puzzler. You set up the conflict while making a reader guess what happens here.
Here go examples of each one: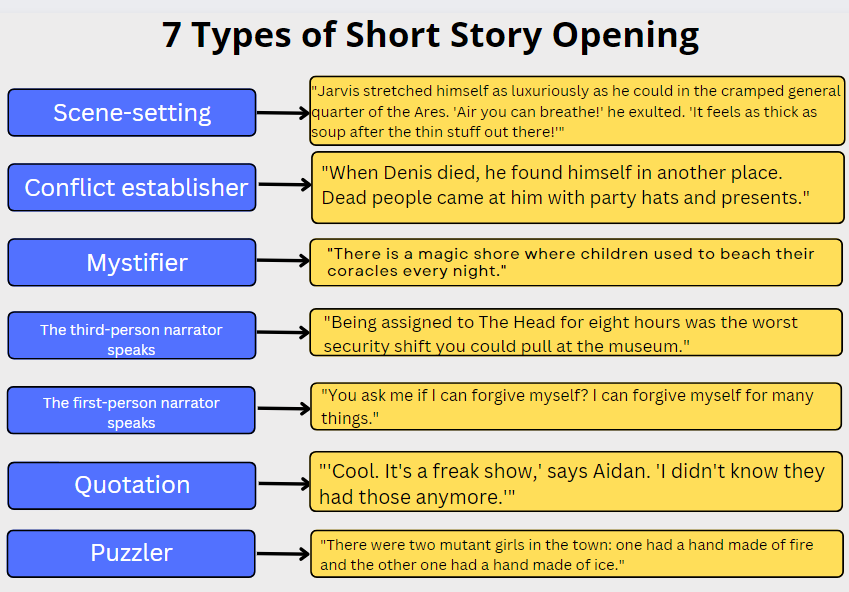 4 — Outline Your Story
Now it's time to write a detailed outline for your short story. Fill in this plot diagram, and you won't miss any critical moment while writing: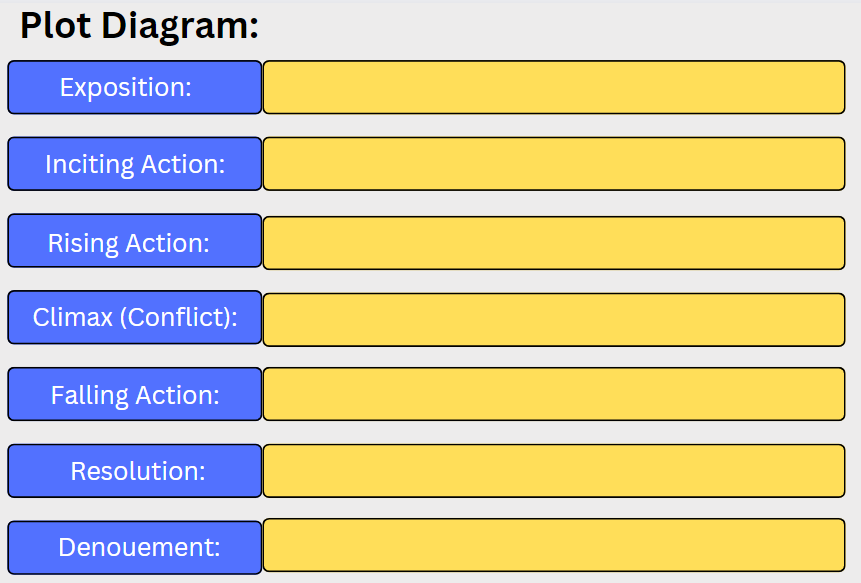 5 — Write a Draft
You have a character worksheet and a plot diagram at hand, so the time has come to craft a rough draft of your short story. When writing, remember that you have a certain number of words to develop a plot, communicate a theme, and resolve a conflict:
Don't waste space.
Your every sentence should be vital for driving a story. Focus on the story's message and ask yourself, "Does this sentence need to be here? Does it serve to illuminate the story's mood?"
Words and syntax matter in short stories to communicate mood and emotions and help readers "see" your setting and sympathize with the characters. Writers know it as the "Show, don't tell" principle:
Use active verbs and descriptive adjectives that appeal to the human five senses and allow readers to "see, hear, smell, taste, and feel" what happens in your story. To make it easier, prepare a so-called setting worksheet beforehand: Write down metaphors, comparisons, images, associations, and other lexical items that will help you build a story using descriptive writing.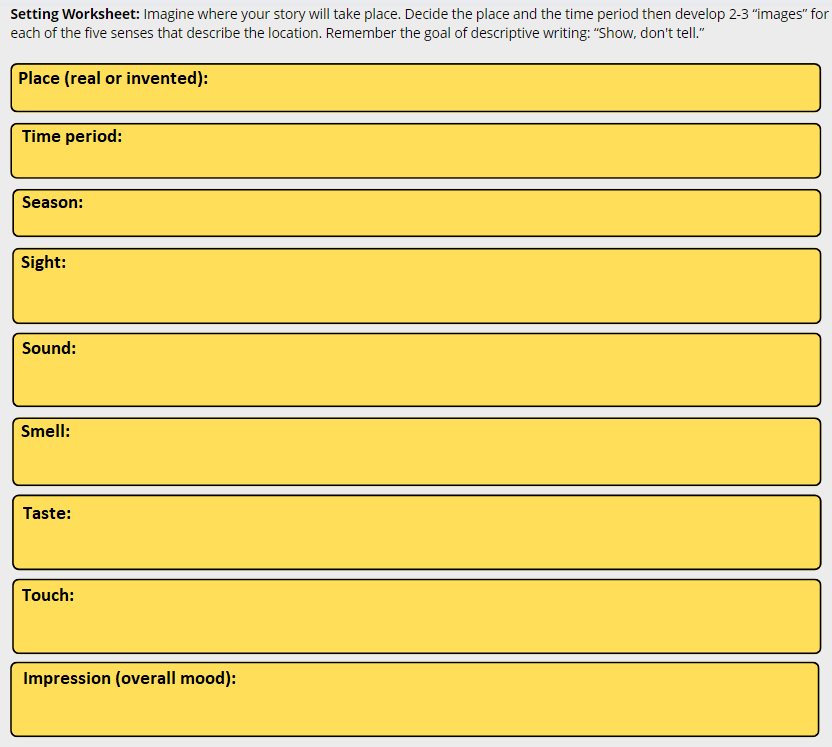 Tip: Don't think of including all of them while writing a draft! Your goal is to get something out on the page and communicate your story's overall aim. So, sit and write; avoid the temptation to edit your draft while writing. You'll have a chance to improve the language when editing.
6 — Decide on a Compelling Ending
The end of your short story is even more critical than its opening: Readers wait for an exciting resolution, and they'll be disappointed if you spoil your beautiful narrative with a weak finale. The most compelling resolutions center on your characters:
What has changed about the protagonist of your short story?
Your characters can't stay the same. Otherwise, what was the reason for their journey? The changes can be positive or negative, but they should have a place.
Also, focus on the mood you planned to evoke in readers: What would be the best way to finish the story to capture that mood and convey the desired message? Ensure your ending follows naturally from where your story began, and don't leave readers with too obvious resolutions.
7 — Edit, Edit, Edit!
So, your draft is ready. Congratulations, the hardest part of your short story writing is over! Now it's time to re-read it several times and revise your story, if necessary.
When editing, think of the following:
Do I give enough information for my readers to picture the story's characters and events?
Are my story details specific and relevant to the overall theme and mood?
Do I use descriptive language? Do my words and sentence structures fit the characters?
For your story to get an A+, it needs a vivid and descriptive setting, named and clearly described characters with problems that are easy for readers to understand, and a logical solution to the character's conflict. Use dialogues to bring your characters to life and add creative details to contribute to the reader's enjoyment.
And remember to correct spelling and grammar errors before submitting your story to a professor or publishing it somewhere. Meet all the written requirements (# of words or pages, font, margins, etc.): It would be a pity to get a lower grade because of such technical details, wouldn't it?
Need Help With Short Story Writing Assignments?
Now that you know and have everything for short story writing, it's time to craft a masterpiece that will impress your professor and all the readers who'll see it. Are you ready to follow the tips from this post and structure your story in the best way possible? Maybe, you already have a theme or a protagonist with a conflict to describe in your work, huh?
If you still have questions or need practical help with short story writing assignments in college, please don't hesitate to contact us. CopyCrafter's professional writers assist with any academic paper type — just ask.